Gomasi (Gomas) Ladies

I had to try it out!
As expected, on touch down at Entebbe, Uganda on one of the last few days of 2009 I was greeted with a thick blanket of heat, so immense that I immediately felt the beads of sweat as they started to pucker up on my forehead. I was in Uganda to attend a traditional Ugandan wedding, which would take place over three days over the New Year. I had eagerly accepted an invitation from a good friend of mine thinking that it would be an excellent way to bring in 2010 and I wasn't disappointed.
It goes without saying the amount of fun, festivities, parties, glorious natural God given sights, eats and traditions that a country such Uganda has to offer so I won't talk too much about that.
I had never known much about Ugandan traditional attire and in the short time I was there I became extremely fascinated with the Ugandan gomasi. As previously stated, the wedding that I attended took place over three days and during that time I had the opportunity to explore the dainty gomasi in all its complexities and glory.
This garment is a dress, the skirt of which is long and flowing to the floor with a square necked blouse, loose fitting with short puffed sleeves overwhelmed by magnificent pointed shoulders, which at times had me thinking of Star Trek's Spock's ears.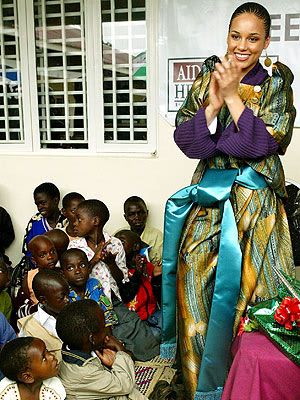 Singer Alicia Keys wears a gomasi
According to some scholars, the gomasi was first designed by Indian tailors and initially worn by the Buganda ethnic group. Today all ladies in Uganda proudly don what has now become Uganda's national dress. Originally designed using barkcloth, the gomasi can be made using cotton, linen, satins and silk fabrics and well made one can use up to 6 metres of cloth.
It is indeed a complex piece of clothing because in order for a lady to don this grand national dress they have to first wear a Kitengi' or Kanga, hand woven pieces of cloth, tied around their waist just below the bosom and firmly secured with a tie. This extra piece of cloth I suspected was probably employed in order to give the ladies a fuller figure under the Gomasi. This is in my view was a rather unnecessary seen as most Ugandan ladies I came across were most times overwhelmingly endowed in that part of their anatomy anyway. Nether less, the Kitengi added to the great Gomasi look; the perfect feminine hourglass figure, African style!
After the extra woven piece of cloth has been tied securely in place, the Gomeci is wrapped around the body much like the Japanese Kimono and held together by one or two huge buttons on the top left hand side of the neckline. A wide sash tied below the waist and over the hips finishes off the look.
Gomasis are worn by in Uganda by the young and old on special occasions such as funerals and traditional wedding introductions referred to as the Kwanjula.