Photographed by Annie Leibovitz












The annual shape April edition of US Vogu
e will feature international pop Superstar and Style Icon,
Rihanna. The cover shoot, shot by American photographer, Annie Leibovitz shows the Bajan Beauty in a unusual trance like pose wearing a sheer floral gown from Chanel's pre-fall 2011 collection.
Reminiscent of old Hollywood, screen legend, Jayne Mansfield, (although some may say Jessica Rabbit or Ariel the mermaid), Rihanna's glorious mane of red hair brings something unexpected, yet alluring and exciting to the cover. This surely is a departure from the bland signature photography normally offered up by US Vogue, especially where Black women are the subjects.
Check out more pictures and video of Rihanna's amazing Vogue shoot here.
Since it's inception in 1892, less than 15 women of African descent have managed to nab the coveted the cover of American Vogue. It is no secret in the industry that most mainstream magazines are reluctant to feature women of African descent on their covers for whatever reason.
"Black models are being sidelined by the major modelling agencies. It is a pity that people don't appreciate black beauty," The British Supermodel Naomi Campbell stated in 2007, while also revealing plans to set up her own modelling agency which would focus on promoting black models.
The Fashion Liaison takes a look back at the Black Cover girls on US Vogue.

From Left to Right, Beverley Johnson, Peggy Dillard, Sheila Johnson and Shari Belafonte

Model Beverley Johnson was the first black woman to make the cover of Vogue in 1974
followed by Peggy Dillard in 1977. Sheila Johnson appeared on the cover in 1980 and Shari Johnson in 1982. Shari went one to have the most solo US Vogue covers from 1982 - 1986.
Karen Alexander, Naomi Campbell, Kiara Kabukuru,Liya Kebede, Marion Jones








Oscar Winner Halle Berry appeared two times in 2002 and 2010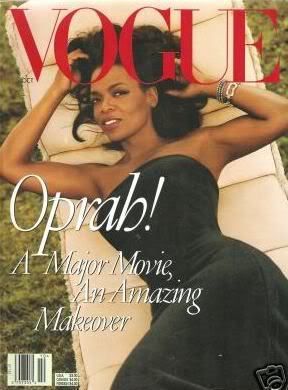 Oprah Winfrey 1998
Vogue Editor, Annie
Wintour
asked
Media Mogul,
Oprah Winfrey to lose 20lbs before appearing on the cover in 1998. The
resulting shoot was amazing and Oprah was understandingly pleased.
Jennifer Hudson and Beyonce Knowles






The 2007 cover featuring Oscar winner and Grammy winning recording artist, Jennifer Hudson sparked a some of controversy and questions about Vogue's agenda when it came to Black women were raised.
Without a doubt, Jennifer is an extremely beautiful woman however, this shoot failed to capture that. The cover shot with Jennifer's mouth wide open and her hair in disarray was obviously the most unflattering of the lot and surely Andre Leon Talley who oversaw the shoot must have seen that? Nether less this was still a major achievement for Jennifer as she became the first black singer to grace the cover followed by Beyonce in 2009.
Michelle Obama 2009
US First Lady, Michelle Obama appeared on the cover in March 2009 issue. Once again Vogue Editor, Annie Wintour and her team failed to deliver on what could have been highly successful photo cover shoot in terms of style, elegance and grace befitting of the First Lady. On the cover, Mrs. Obama wears a magenta dress by Jason Wu and while the pose is stately, keeping in line with her position as the wife of US President, the expression on her face looks strained and her hair, not finely styled as it is normally. The pictures inside the magazine were ten times better.